Tell me you've started watching the CW's new show, Hart of Dixie!
There were a lot of ups and downs in last night's episode, some moments were dull but others were very good!
(If you want to see a better episode of Grey's, girl, WATCH THIS!)
I will admit it was nice to see George O'Malley's mom, Louise, come back to the show. Izzie and George were my favorite characters and having his mom come back made a little piece of my heart warm up!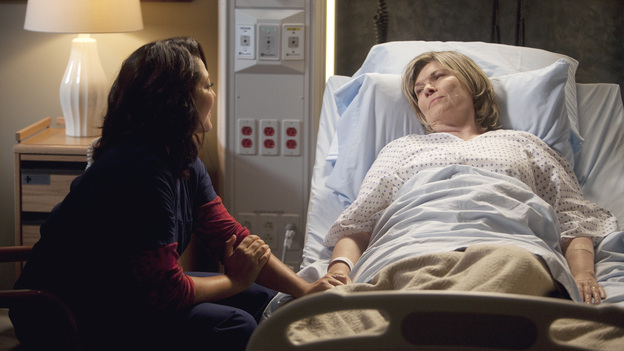 She came back to Seattle Grace because she's in pain, which they later find out will go away with a simple surgery. During the time she spends there she catches up with her ex-daughter in law Callie, but things turn out okay and she gets so excited to hear that Callie has a baby now, and I have to tell you, when I saw the smile on her face I could not help but think back to when George mentioned they were wanting to have kids and she made them a TON of baby clothes!!
Meredith and Bailey do make up…sort of. It was a peace agreement, Bailey allowed Meredith to do Ms. O'Malleys surgery and Meredith asked Bailey for advice on how to dress when going to court to get Zola back.
A very funny part of last night's episode was the "heart in a box" scenes. Basically, Cristina has this heart, in a clear box and it "speaks" to them. Dr. Weber tells her that the heart in the box will tell her everything and answer all her questions, and by the end of the episode both Cristina and Jackson are dependent on the heart in the box! They say if you listen closely enough, it will tell you what you want to know! haha
The Lexie-Jackson-Mark update of the week is that Jackson decides he does not want to see Mark more than he has to because he feels uncomfortable with Lexies feelings towards Mark and decides to opt-out on a nerve graft surgery with him. Mark gets upset with him and says he is bailing on the "Plastics Posse" (and he genuinely seems hurt by the break up of the posse!). Don't worry though, by the end of the episode Jackson decides to choose Mark over Lexie, saying he needed to make the right choice for himself. I am very happy with his decision! Now Lexie needs to strike up a conversation with Mark and get things back to the way they were!! There is hope!
Another funny part of the episode was when this author comes into Seattle Grace and she needs surgery because she has an aneurysm that's leaking, however, she refuses to have surgery until she's finished her book. Her decision and Derrick wanting to speed the process up leads to Lexie spending a ton of time with her and helping her write the book. By the end of the episode Lexie is obsessed with the romantic story and relates the characters to her own relationship. When the author tells her that she's decided the girl in her story is going to stay with the perfect guy, but will eventually end up with her imperfect soul mate, Lexie bursts into tears because she doesn't like the way the author is choosing to end the series. We see the parallel between the authors characters and Lexie's relationship when Jackson breaks up with Lexie at the end.
Lastly, Teddy and Henry's relationship goes though some hills this episode. Henry see's his wife do surgery and all is good, until he brings up the idea of him going to med school. Teddy is not happy with the idea and they have their first big fight. The ending doesn't turn out too well either because Teddy comes home to Henry throwing up blood in the kitchen sink, and knowing about Henry's heart problems, we know things will not be okay. 
Get this weeks episode from iTunes.
Overall Rating:
This past Thursday Grey's Anatomy was about playing softball…I know. I was surprised too, but by the end, I was pleasantly surprised!
The new chief-of-surgery, Owen Hunt organizes a softball game against Seattle Presbyterian, which they end up winning at the very end of the episode, only because the chief-of-surgery at Seattle Presbyterian forfeits the game.
Lexie gets super jealous seeing her ex (Mark Sloane) with his new girlfriend, a surgeon from Seattle Presbyterian. By the end of the episode, Lexie can't control her emotions anymore and throws the soft ball straight into Mark Sloane's new girlfriend's chest, hence why her team forfeits!
I am SO happy that Lexie got jealous of Mark and his new girlfriend! I loved Lexie and Mark together on the show in previous seasons and have always wanted them to get back together! Hopefully this is the start of the relationship getting rekindled…!!! (This reaction from Lexie does not go unnoticed by her current boyfriend Jackson…he notices instantly and even asks her if their relationship is okay, and she doesn't answer).
Also, Alex goes to every adoption agency in Seattle looking for Zola's medical records and taking to anyone he needs to, to try and get Zola back to Meredith and Derrick. Zola is the child that Meredith and Derrick had adopted for a short period of time, but then got taken away from them by the agency because they felt they weren't good parents and it would be an unstable household for Zola to live and grow up in if they were to get divorced (Meredith was also on the verge of getting fired from her job, and word had gotten around to the agent).
Alex is one of my favorite characters on the show, and I'm sure he's going the extra mile because he ratted Meredith out (about messing up a Alzheimer's clinical trial) but its still sweet to see him care. Meredith is one of the only people that's stuck by him since their first year of residency and its nice to see he's trying to make it up to her! He does convince the lady working at the adoption agency to give him Zola's files by promising to remove a mole from her face (that he convinces her is a dangerous one! haha).
Also at the end of the episode, we finally see Bailey release her anger towards Meredith, calling her selfish and an unreasonable person. She doesn't like that Meredith never has to suffer any consequences at the hospital because her mother was Ellis Grey (a former girlfriend of Richard Weber [former chief-of-surgery] and Richard always takes the fall for her).
In the end, Richard tells them both to get over themselves, and soon, because he just assigned them both to work on the same clinical trial (which equals seeing each other ALL THE TIME, and it'll definitely be interesting to see how that plays out).
(Click the picture to see the preview for next week's episode!)
I am really looking forward to next weeks episode! Hopefully Lexie expresses to Mark that she is still interested in him, and he feels the same way about her (though it never is that simple! Especially on TV!) Also, George's mother comes to Seattle Grace! …and it looks as though Bailey is not happy about it!
Get this weeks episode from iTunes.
Overall Rating:
LOOK OUT!
The surgeons from Seattle Grace are…playing softball?
girl, WATCH THIS's next post will be about Seattle Grace vs. Seattle Presbyterian and more!
Last night was the premiere episode of ABC's Once Upon a Time. I just stumbled upon this show, and didn't know the first episode was airing, but the begging caught my attention. It started out as the fairy tales I'd read when I was younger. Snow White was lying on the trunk of a tree that had fallen down and price charming comes over to wake up with his 'magical' kiss….but then the show snaps into current day.
Emma Swan is the main character and she makes a wish on her birthday not to be alone, moments after she blows out the candles, her son shows up at the door (the son that she put up for adoption 10 years ago) eager to meet her.
Her son Henry carries a story book his teacher gave him everywhere he goes. He genuinely believes that his biological mother, Emma, is the lost daughter of Snow White and Price Charming, and that his adopted mother is the Evil Queen. He says the town that he lives in, Storybrooke, is curse by the Evil Queen (his mother) and that the characters (such as Snow White, Prince Charming, and yes, even Rumpelstiltskin) have forgotten who they really are.
Throughout the episode the audience can see the similarities that Henry see's between Snow White and his teacher, The Evil Queen and his adopted mother, The man his teacher visits in the hospital and Prince Charming, and even the owner of Storybrooke and Rumpelstiltskin.
(click on the picture to see a preview of the show!)
It's obvious the studio put effort into trying to match the descriptions of the legendary story in the show. When the scene of Snow White and Prince Charming's wedding comes up at the beginning, we see all the dwarfs and her animal friends.
The show is a great reminder of childhood stories for viewers 20 years old and older. Though there are new concepts added in, it's nice to see a show honor past stories that meant so much to people when they were kids.
Overall Rating:
I haven't been a consistent fan of ABC's Revenge, nor have a I heard much about the show, but I got home late this Wednesday, and it was on, and seemed interesting, so I tuned in. The show centers on Emily Thorne, who is out to get revenge in "honor" of her father. Emily's fathers' "friends" dumped the blame of a crime they committed on him, and he was arrested for being a terrorist. This week's episode showed the return and death of a blonde mischievous lady who owned the house Emily is now living in. She is back to repair her damaged reputation and is trying to befriend her former friend Victoria.
Lydia comes back strong, walking into her former home and telling Emily she wants her place back. She also surprises Victoria, showing up at her luncheon. Victoria is very cautious around Lydia because Lydia is also Victoria's husband's mistress.
Emily also has to watch out for her "friend" Nolan, who placed a hidden camera in her house, which accidentally gets sent to Lydia's new apartment. This turns out to be a positive thing in a way, because Nolan watches the tape and see's that Lydia is suspecting Emily as being someone else (Emily's original name was Amanda). The tape also shows that Lydia did not commit suicide but rather, Victoria set up someone to sneak instead her home to scare her off-the result being a fight between the man in her home and her tripping off the roof of her building.
The show begins and ends with the camera showing Lydia's body after crashing onto a taxi outside, and below her building.
Overall, I thought the episode was pretty good! It kept me interested and now I'd like to see what happens next week.
P.S. During the "scary" scenes….I admit I put the TV on mute. It makes it less freaky to watch! (There are a couple of these throughout the episode)
Scale (Out of 5):
Overall Rating: